Get A Copy Of Our
"Your Email Profits"
Book For Free!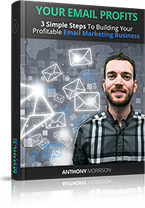 The
3 Simple Steps
To Building
Your Profitable
Email Marketing
Business…
Courses & Software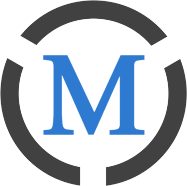 Morrison Publishing, LLC offers many high end courses for aspiring Internet Marketers. If you're looking to learn about list building, email monetization, Facebook advertising and traffic generation there's a course for you. In addition to courses we also offer some of the best software for marketers including MobileOptin, BuildRedirects and our suite MarketerSoftware.
Live Events

Would you like to meet Anthony in person? Each year the Morrison Publishing team holds an annual Build, Send Profit Live event which covers everything from Shopify and e-Commerce to email marketing and traffic generation. The goal of the event is to allow students to connect more personally with Anthony and also to dive deep into the strategies that are working currently online. We'd love to see you at our next event!
"You Absolutely Can't Fail, If You Never Stop Trying"
Anthony Morrison – #nevergiveup
October 8, 2016

The New Success Connection

July 26, 2016

Fan Page Domination By Anthony Morrison

January 23, 2014

Success Connection #193: Affiliate Summit Information

January 9, 2014

Success Connection #192: Happy New Year!

December 26, 2013

Success Connection #191: The Cycle... of Nothing...

December 19, 2013

Success Connection #190: Come Inside My Offices...

December 12, 2013

Success Connection #189: Checkout Affiliate Summit

December 3, 2013

Success Connection #188: Christmas For Kids An Inside Look

November 28, 2013

Success Connection #187: Happy Thanksgiving!

November 14, 2013

Success Connection #186: Recap & Join

November 7, 2013

Success Connection #185: The ERP Explained

October 31, 2013

Success Connection #184: The Introduction

October 23, 2013

Success Connection #183: The Market

October 10, 2013

Success Connection #182: LOCAL Profits

October 3, 2013

Success Connection #181: New IDEA

September 26, 2013

Success Connection #180: FREE Software Last Chance

September 19, 2013

Success Connection #179: Free Traffic Software Download

September 12, 2013

Success Connection #178: Free Traffic Software

September 5, 2013

Success Connection #177: $1,000 Winner

August 29, 2013

Success Connection #176: Your Offer Is Live!

August 22, 2013

Success Connection #175: Get Affiliates

August 15, 2013

Success Connection #174: Get In A Network!

August 8, 2013

Success Connection #173: Create Your Product!

August 1, 2013

Success Connection #172: Is There A Market?

July 25, 2013

Success Connection #171: Your Product Niche

July 18, 2013

Success Connection #170: Your Launch PC

July 11, 2013

Success Connection #169: PC Topic Selected...

July 4, 2013

Success Connection #168: New Profit Cycle Training!

June 27, 2013

Success Connection #167: $1,000 Winner Is....

June 20, 2013

Success Connection #166: Let's Put It Together...
What people say about Anthony Morrison!
I learned to be able to get multiple stream of income from a single thank you page. Thank you for taking the time to train us. I wish everyone could be as positive as you are about succeeding in Internet Marketing.

- Amy Proebstel
Fantastic training. I Feel like i was fed from a firehose there was so much information. Thank you for being interested in our success!

- Susan Young
I'm only a couple weeks in the Success Connection and it been really great. It feels like somethings are so obvious when someone points them out. It just makes so much sense. We're definitely in the right place at the right time. Anthony is literally the answer to my prayers.

- Courtney Napieralski
The Mo. Bros. duo is unstoppable and they have prepared us for major success. Thanks for caring and sharing all you know with your students. Much love!!

- Mike Cee
Anthony Morrison you always go the extra mile for your students, Thanks for everything you do and for the
giving person you are! #NEVERGIVEUP

- Cindy Sapp
Who Exactly Is Anthony Morrison?
Anthony Morrison Is An Author Who Has Been
Featured In CNN, Los Angeles Times, FOX9, Among Others.
If you've seen Anthony Morrison on TV, you might be wondering how he was able to become so successful at such a young age.
And the answer would be simple. He had to overcome many financial challenges early in his adult life, and it's led him to develop a system that's allowed him to build an incredible online business.
Facing these challenges has allowed him to expand his way of thinking, and he had to develop his own system – one that would produce fantastic results in a short amount of time. Despite his young age, he has a great deal of business experience. He decided to become an author, so he could share his techniques with others.
How Anthony Morrison Has Coached Others
Many people have found a way to have more success in their online businesses through his books and courses, and they continue to support Anthony Morrison and attend his live events.
Anthony's teaching cutting edge marketing techniques every week to his Success Connection coaching students and watching their journey to being a successful Internet Marketers unfold each week live. The core focus for the team led by Anthony at Morrison Publishing right now is educating and empowering people all over the world. Internet Marketing can be simplified with the right training and tools, which Anthony works diligently to provide his students.
This year Anthony has ventured into the world of software development and through his designed helped many people eliminate some of the problems that plague most Internet Marketers. Anthony will continue to develop additional software to help simplify things like building an email list, tracking your clicks, and optimizing your conversions which are all crucial to success as an Internet Marketer.
Today over 5,000 people worldwide are using Anthony's software to optimize their online businesses and generate higher returns on investment. The goal for Anthony and the entire Morrison Publishing team is to triple that number in the next 2 years.
Let Anthony Morrison Help You Achieve Internet Marketing Success!
Even though he started his first business at 21, and has become incredibly successful at 34, Anthony Morrison wants to help businesses expand their marketing power. He also wants individuals find their entrepreneurial drive, so they can use his powerful techniques to find massive success. You can do the same through his courses and live events.
Anthony has a great deal of knowledge and experience in growing an online business, and he can pass that same knowledge on to you. If you sign up for any of his programs you'll have one of the brightest minds in Internet Marketing helping you achieve the success you desire.